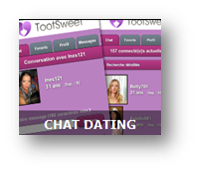 Become an affiliate dating mobile!
With our service, your visitors will be redirected to our mobile chat dating service and you will be pay for that!
Affil4You offers its chat/dating mobile service, including a smartphone-optimized version.
As for the VOD, the chat product is available in white-label for better revenues, as well as in predefined branding solutions.


HOW DOES IT WORKS?
This service is very easy to use :
- Select the source of your traffic (Your mobile website(s))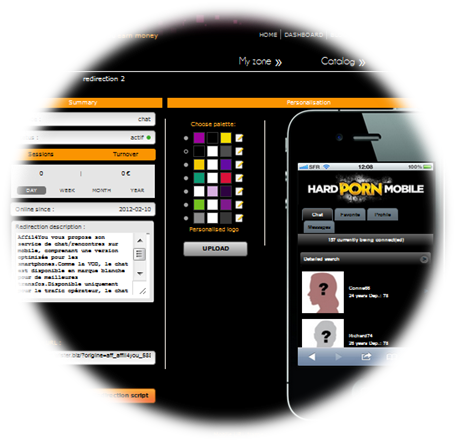 - Customized your mobile chat service: Colors, Logo, etc.
- Insert the redirection link generated, at the root of your own website
Your adult traffic will be redirected toward this mobile website automatically.
- Follow the services' performances
-It is entirely free, you can stop it when you want.

THE + OF OUR OFFER :
1) OUR MOBILE WEBSITE
- You customized your mobile website as you want to appear : Logo and colors of your choice, it is your brand that appears on the site.
- Domain name customization
2) PAYMENT
Payment at the beginning of each month (after bills are received)
3) CHECKING
- Real-time stats tool
- CRM tools
4) HIGH CHOICE OF CONTENT
Many People are connecting on our Chat dating service, to satisfy every needs!

5) EASE OF PAYMENT = MORE PURCHASES
- A billing system adapted to more than 5000 mobile devices, whose touchpads - Worldwide direct billing to carriers (Vodaphone, Orange…)

SOON AVAILABLE: A taylor-made animation, where you choose between mainstream and adult animation, as well as straight or gay. You want to suggest mobile livecam for your mobile visitors?

Discover mobile chat dating and make money with you adult traffic!

Available only for carrier traffic today, the chat will soon integrate micro-transactions for Wifi visitors as well.