Registration
By clicking on "Sign Up Now" you accept our General Terms & Conditions. Adults-only website.
After registration, you will receive an email with a confirmation link which will allow you to configure your account and target websites so that you can start monetizing your traffic.
Thank you
Your account has been created.
To validate your account, click on the validation link in the email that has been sent to you.
(Check your spam folder)
Don't forget to fill in your account information in your "My Account" page.
Click here to enter another email address.
We encountered a problem during your registration, and our team has already been notified. You can contact
yvette
in the meantime. Thank you for your understanding!
Google-Friendly Template
Description
This script allows for the adaptation of your VOD website to mobile terminal equipment, while completely complying with the Google recommendations and adding our monetization means: When an end-user clicks on a video page on your website, he/she is redirected to the same paid mobile video page.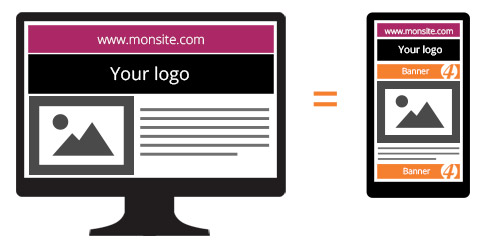 For which clients? 
For those that want to optimize the SEO of their website by offering rendering and an identical URL online as on mobile.
For those that want to be 100% Google-friendly, without any risk of cloaking
For those that have a VOD website.
For those that want to reduce the time and budget dedicated to full-responsive site reconstruction.
For those that want to monetize their mobile audience without a risk of decommissioning by Google
Prerequisites:
Have at least one mobile site in its affil4you synthesis (created by affil4you or in white  label) 
Customization elements
Possibility of choosing to which site the traffic will be sent (so choice of product and universe).
Possibility of choosing a niche by default (for a VOD mobile site) with the content that converts the most on the end-user's landing page. The other niches can be found in the Category tab of the mobile site.
Possibility of personalizing the logo and all the colors on the template to match the brand image on your website.
Possibility of niching the banners that appear in the header and footer of the template.
Possibility of including or not including your own videos (in mp4 format) and descriptions of the videos.
Possibility of including or not including the links, menus, groups of links and/or tags present on your pages.
Possibility of tracking the statistics via the addition of a tracker.
Possibility of including or not including the personal tracking code (example: Xiti).
To see an example :
http://partners.wister.biz/projet_x/aff_site.php
Offered Langages
PHP (recommended solution) and Javascript