CONTEXT:

Do you already have your own adult website or mobile traffic... but you do not know how to make your own mobile website to monetize that mobile traffic?
It is really easy with affil4you.com and it is entirely free !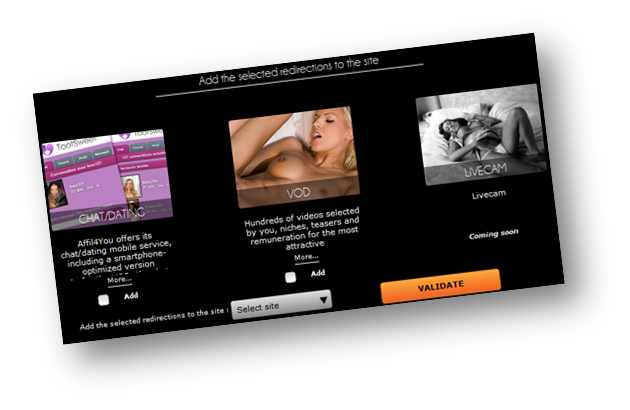 OUR OFFER

In a few simple steps, we can create your own branded or non-branded adult mobile website. There are tons of great choices for you to choose from to ensure that you create the exact site that wish to have. Our mobile website development tool is very simple, eloborate, and robust... and you can easily personalize your site to your liking... starting with the logo, the colors, the categories, and many other criteria that could be customized to create your mobile adult site.
Get started making money with your mobile traffic today!
THE + OF OUR OFFER:

The gains for you are huge:
- Nowadays, it is necessary to give an optimized and adapted access to your mobile users. That's why you need a clear and simply mobile website which correspond to your brand. Then, you benefit from a new source of visitors, you maximize your visibility on all the supports used by your adult visitors.
- In a few clicks, the mobile website is operational and usable for your mobile internet users. You can also ask for our advices and we will help you to build your adult mobile website as you want it appears.

Let's see now how to create freely your adult mobile website !