Registration
By clicking on "Sign Up Now" you accept our General Terms & Conditions. Adults-only website.
After registration, you will receive an email with a confirmation link which will allow you to configure your account and target websites so that you can start monetizing your traffic.
Thank you
Your account has been created.
To validate your account, click on the validation link in the email that has been sent to you.
(Check your spam folder)
Don't forget to fill in your account information in your "My Account" page.
Click here to enter another email address.
We encountered a problem during your registration, and our team has already been notified. You can contact
ines
in the meantime. Thank you for your understanding!
Mobile Mask
Some of our webmasters are worried about traffic redirection and how it pertains to Google. Google seems now to be penalizing simple redirections (without a custom or personalized domain name) and is now moving in favor of websites with a properly designated mobile version. Until now we have been confident that properly using our redirection script with a custom or personalized domain name respected Google's conditions, but in order to address growing concerns we are offering a new and innovative tool with:
- Revenue and performance maintained
- A better and safer alternative to the redirection
A mobile-layer is an iframe which is displayed on the page requested by the end user and is placed on top of the web or mobile page of the affiliate. By default it is set to be shown full screen, so it has a high chance of being clicked and therefore taking the end user to our pay sites.
To test the tool as a mobile visitor, try this URL with a mobile phone: http://www.affil4you.com/tools_tests/mobilemask/landind.html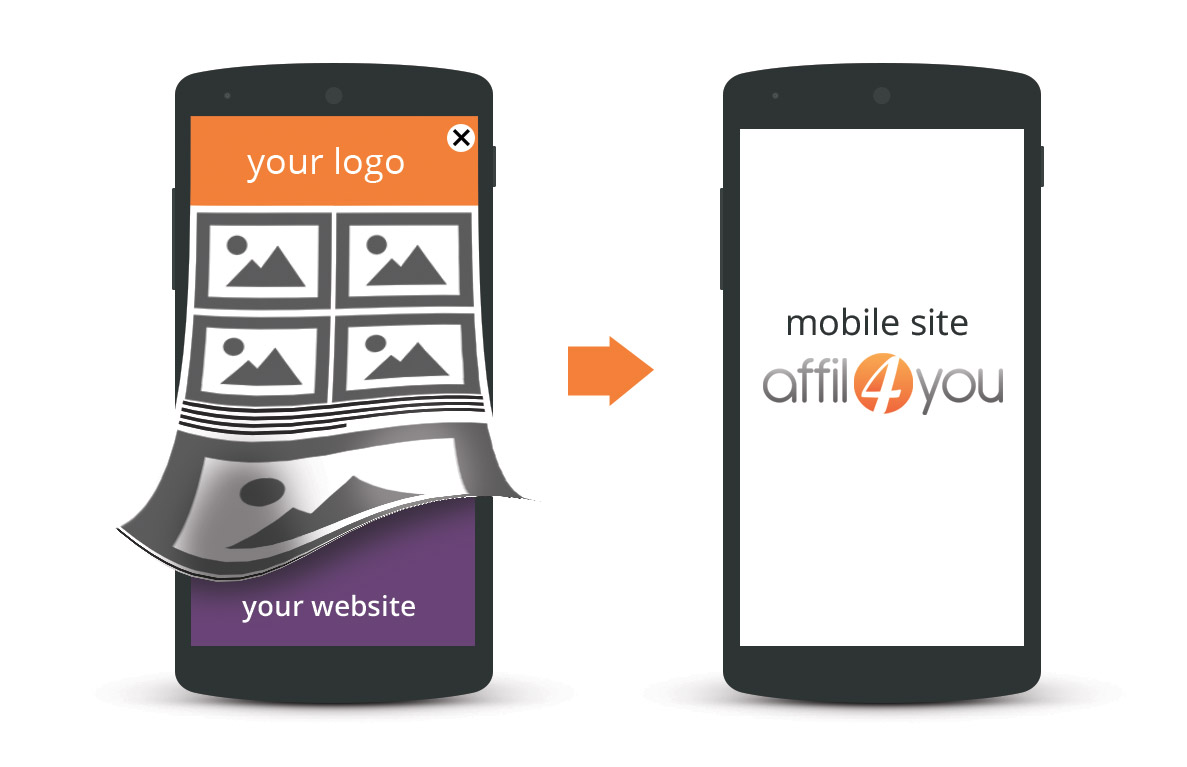 For which clients?
Prerequisites: Have at least one mobile site in its affil4you synthesis (created by affil4you or in white label)
Customization elements?
Possibility of choosing to which site the traffic will be sent (so choice of product and universe), with logo, colors, list of contents, SEO, etc.
Possibility of choosing the delay after which the Mobile Mask will appear: We recommend to set it to as soon as the page is loaded.
It is possible to decide the time (in seconds) after which the Mobile Mask appears again, if it has been closed by the user. This feature can also be deactivated.

Possibility of openi

ng our VOD, Dating or Livecam services in the current page or in a new tab.
Possibility of choosing the kind of traffic to send : mobile, tablet, desktop.
Possibility of tracking the statistics via the addition of a tracker.
What languages are offered?
Only Javascript currently. Contact your salesperson!
This script must be placed anywhere between the <head></head> or <body></body> tags of your pages.
Limitations of the tool:
It is possible that the user may be unable to close the Mobile Mask on some versions of the Android native browser on some phones, on Windows Phone and on the Galaxy Note.
On the Android native browser version <4 and on Android Opera version <4 it is not possible to scroll the Mobile Mask page.